Providing professional builders with a personalized online shopping experience
Bouwmaat supports professional builders in carrying out their projects. It carries all major premium brands, has its own private label and supplies customers with materials as well as expertise. Many of Bouwmaat's staff have been builders themselves and advise customers based on their knowledge and expertise. Bouwmaat's shopping experience is thus characterized by personal attention. As manager e-commerce John wants to recreate this experience on Bouwmaat's various digital channels:
'It's very important to approach your customers in the same personal way (they are used to) across the different channels. That needs to be carefully managed.'
Personalisation is therefore one of the main points of attention in Bouwmaat's online strategy. SPARQUE was already involved in a cross- and up-sell project when the need arose to improve the existing search and navigation functionality. The old search results did not match expectations and John and his team felt there was nothing they could do to change that.
'Search was a black box that did not produce the results we wanted. We don't want to sit in the back of the bus. We don't necessarily have to control the wheel, but we do want to map out the route together.'
The Bouwmaat team had experienced the flexibility, freedom and speed of Spinque Desk in the cross- and up-sell project and had worked very pleasantly with Chi Shing.
'The match with SPARQUE is very good: we both think fast and want to move forward. We stimulate each other and are prepared to experiment.'
So John decided to start using Spinque Desk for search and navigation as well.
'I love empowering people and Spinque Desk gives me that opportunity. It gives our team control over what happens and that gives them a lot of satisfaction in their work.'
And it gives Bouwmaat the search results they want for their customers. They were nominated for a Shopping Awards Vakprijs and won the Silver Dutch Interactive Award with their case 'How do you make unique and personal attention omnichannel?'. Even Bouwmaat's experienced staff members now use the online recommendations to advise customers at times.
Spinque Desk puts John and his team in charge of their search and enables them to recreate the Bouwmaat shopping experience online.

About the client
Bouwmaat is a wholesaler in building materials. It offers timber, plumbing, tools, paint and much more to professional builders through its growing network of branches, its site bouwmaat.nl, its Apps and its inspiration platform alles.bouwmaat.nl. Bouwmaat helps its customers to construct smarter.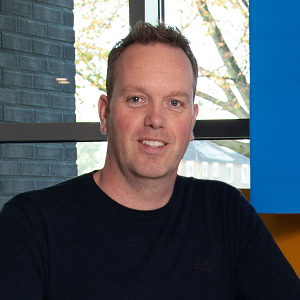 John Jelsma is manager e-commerce. He is responsible for all online marketing and sales. He also plays an important role in shaping Bouwmaat's omnichannel strategy.
About SPARQUE
Chi Shing Chang is the CEO of SPARQUE, our trusted partner for many years. Powered by Spinque Desk, Sparque has taken a frontier position in search and recommendation in eCommerce.